Minibus Hire, Stirling & Perth
Golf Tours, Touring Holidays and Wedding Hire from Sweeneys of Muthill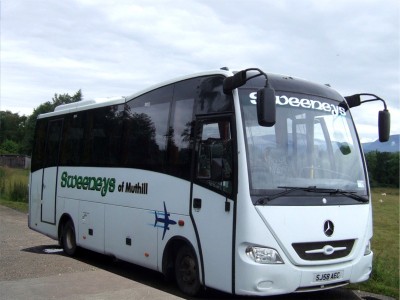 Sweeneys Garages Minibus Hires and MOT Testers is now in its fifth decade of operations. Tommy Sweeney with his wife Kathleen run their minibus and taxi hire business from the village of Muthill, near Crieff, situated half way between Stirling and Perth. Along with son Kevin, office manager Evlyn, and a highly qualified team of drivers and couriers Sweeneys minibus company is at the epicentre of Perthshire's minibus hire services.
Sweeneys minibuses meet the demands locally and nationwide for travel hire services across a wide spectrum; schools, church organisations, social and sports clubs all avail of the company's services.
Sweeneys Minibuses transport service also cater for the transport needs of visitors and tourists to the Strathearn Valley, Perthshire, particularly for golfing and fishing holiday excursions.
The high level of regular local clientele and re-hiring by returning annual visitors to the areas of Perth, Stirling and the Strathearn valley is accurate testament to the very high standard of professionalism and excellence of transport service offered by Sweeneys minibuses of Muthill, near Crieff.
Contact us
for your minibus hiring requirements including golf tours, holiday excursions and airport transfers in Stirling, Perth and throughout Perthshire, Scotland, UK.